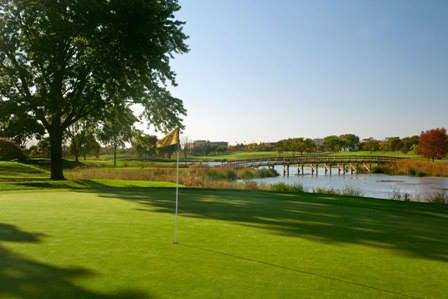 In 2011, Bridges of Poplar Creek Country Club underwent a grand reinvention of the already stout 35-year-old golf course. Fifteen holes were enhanced under this period while other remarkable holes went unchanged. The addition of multiple tee boxes fulfills desires of all golfers alike with advanced golfers seeking added length and new golfers seeking shorter distances.
If you played BPCC prior to the renovation, you may remember a different starting hole. The first hole has now become Number 10, contributing to even greater enjoyment. Re-configured fairways and bunkers, planting of fescue for depth and definition, and new lakes make for challenging, yet fair hazards as well as terrific strategic shot values.

Picturesque, tree-lined and immaculate conditions from No. 1 tee to No. 18 green, a perfect blend of bark and benevolence satisfies golfers of all abilities. Boredom need not apply.
---
While charm of the classic Killian-Nugent layout is preserved by the critically-acclaimed re-design team of Lohmann Golf Design (Chicago), new highlights include:
Hole No. 2
This short, 342-yard par 4 tests your skill from the get-go. With water on the right and out-of-bounds on the left, an accurate tee shot is essential. For risk takers going for the green, let your inner John Daly loose with a long drive over water. Once (or if) you safely hit this fairway, your next shot requires pinpoint accuracy over a creek to the green. Then you cross the long, winding and picturesque bridge to a green that slopes from back to front and toward the water.
Hole No. 6
Tee it high and let it fly down the wide fairway for a birdie opportunity on this 361-yard, par 4. However, if you miss left, a watery grave looms. Your second shot requires well-judged distance to carry water and two greenside bunkers. If you get the ball to the hole, a birdie on this flat putting surface is realistic.
Hole No. 10
A long, narrow start, this par 5 features a tee off to a well-bunkered landing area. The second shot requires an accurate lay up or precision to shoot for the green in two. The approach shot into an undulating, well-bunkered green is a test in itself.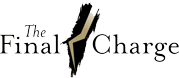 C'mon we dare you to overcome Bridges of Poplar Creek's "Final Charge." We're talking about holes 16, 17 and 18, lauded as the best "round-ender" in Illinois. A sneak preview before testing your mettle:
Hole No. 16
A long, straight tee shot avoiding the bunker on the right side is a must for this difficult and trying par 4. The second shot is all uphill, requiring an extra club to reach the well-bunkered green. The place to be in two is right in the middle of this rather flat putting surface.
Hole No. 17
The longest par 3 at 215 yards from the championship tees is a unanimous winner. A picturesque but frightening downhill tee shot leads to an L-shaped green almost completely surrounded by water. Playing for the pin is bold but carries reward potential on this multi-tiered green. A wise choice is to aim for the center of the green and run away with a solid par.
Hole No. 18
The longest par 4 on the course, this hole demands a long tee shot to a wider landing area. The approach shot varies to where the pin is located, but if you are precise in your club selection, you will end up with an easier flat putt. If not, then it's golfer beware.
Course Rating & Slope
| | | |
| --- | --- | --- |
| MEN | Course Rating | Slope |
| Black | 70.8 | 138 |
| Bridges | 69.8 | 136 |
| Gold | 68.8 | 134 |
| Silver | 66.1 | 128 |
| Poplar | 64.5 | 124 |
| | | |
| --- | --- | --- |
| WOMEN | Course Rating | Slope |
| Green | 67.3 | 122 |
| Silver | 71.3 | 130 |
Rules & Regulations
"A Metal Spike-Free Facility"
Lightning Safety
One Long horn blast-Golfers required to suspend play. Three Short horn blasts-Golfers may resume play.
Courtesy of Play
Please replace divots, repair ball marks and smooth sand bunkers. For players' safety and course maintenance, please observe all posted information. Proper golf attire is required at all times. Please use cart paths provided around tees and greens.
Our Objective
To provide an enjoyable round of golf while ensuring a continuous flow of play.
Your Responsibility
Your group is expected to be aware of your speed of play and maintain your interval in relation to the group ahead of you.
Enforcement
Groups unable to fulfill the requirements of the keep pace program will be subject to removal from the golf course without refund.
Hints to Keep Pace
On the Tee
Disregard the honor system and hit when you are ready.

When Riding A Cart
The player farthest from the green should be dropped off at his ball with proper club(s). The other player should proceed to his ball in the cart and be ready to hit.
Bunker Play
Take a rake with you before you play your shot.
Lost Ball
Drop another ball and continue to play taking a one shot penalty. Do not look for any golf balls in the water or out of bounds.
On the Green
Continue to putt until you have holed out. Do not mark short putts; go ahead and tap your ball into the hole.
EZ-GO Carts with TFM GPS

Our state of the art EZ-GO golf cars are equipped with TFM GPS systems that are on the cutting edge of technology. Please see below for features of our brand new GPS system: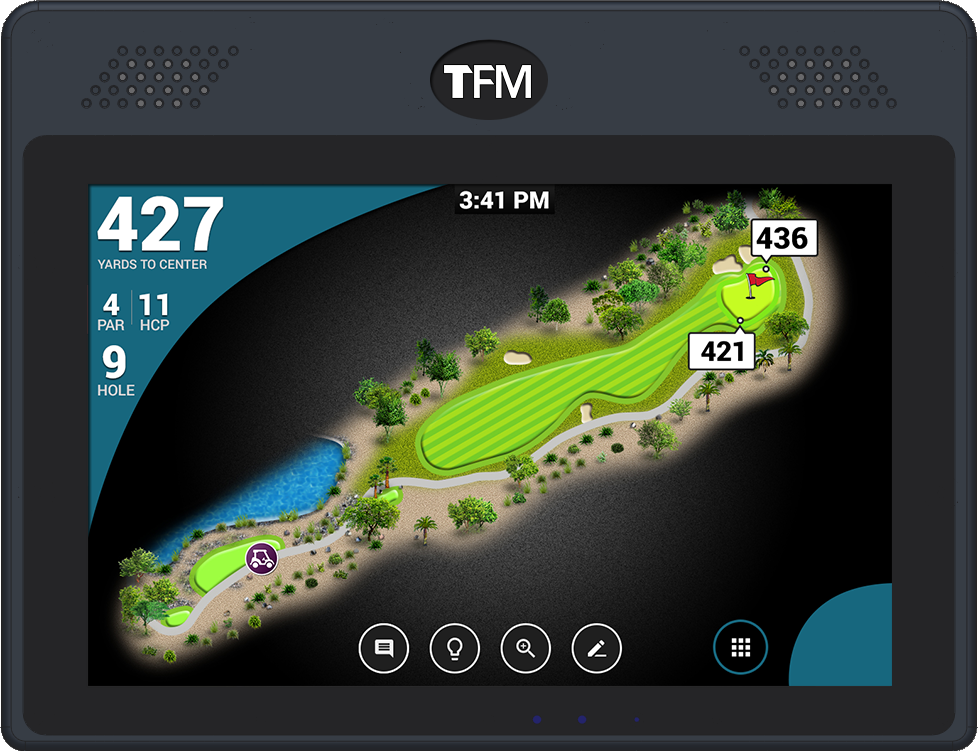 Brightest screen on the market
Exceptional accuracy
Enhanced HD hole graphics and 3D flyovers
Distances to center/pin and various hazards
Shot/drive distances and distances to any touch point
Staging screen with customize-able images
Protips on each hole
Overview map
Digital scoring
2-way messaging and automatic pace and geofence warnings
Automatic cart shutdown in event of zone violations
On-cart pace tracking ensuring the most accurate and up-to-date pace status
Automatic software updates
Built-in high-capacity internal battery
Rigorous environmental testing & certification
---
ADA Golf Cart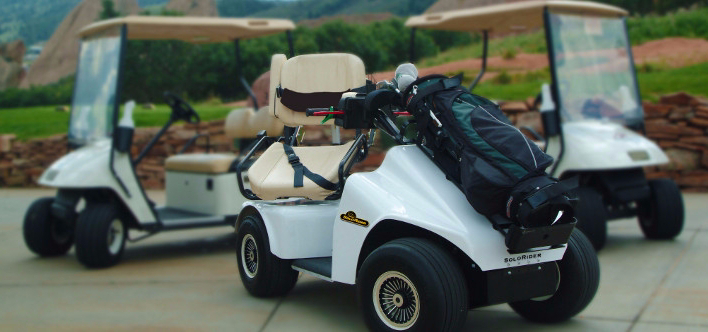 Our golf carts are accessible to wheel chair bound individuals. With turf friendly tires that are gentle on greens and tees, they are tough enough to handle curbs and rough terrain. On uneven terrain, the swing arm suspension allows wheels to move in response to terrain, not side to side. These carts maintain ideal control in demanding terrain situations by keeping wheels on the ground for traction and stability, including patented swivel seat with electric stand up mechanism. Enjoy ease of entry and exit with the 230 degree swivel seat. Elevate to a hitting position with the touch of a button. Easy to reach accelerator and braking levers. No steering wheel or foot pedals. Effectively operate the car with one hand. To reserve our ADA cart just add a note at the time of booking and it will be waiting for you when you arrive.
*Bridges of Poplar Creek has one ADA golf cart that is available as availability permits. (Reservations Recommended)